Complete Your Pre-travel PCR Test in the Comfort of your Home or Office
Getting your pre-travel PCR test has never been easier or more economical 
Available for Ontario, Quebec and Manitoba travellers. Coming soon for Alberta and BC residents.   
When you book your Citizen Care Boost! PCR test, you can complete your pre-travel PCR test in the comfort of your own home or office. Your test will be observed virtually with a licensed nurse. Results within 48 hours. It's easy and economical!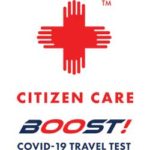 Virtual RT-PCR test observations are being performed by fully licensed and trained nurses. A key benefit of the Citizen Care Boost! program is that you receive access to a virtual health concierge for the duration of their journey. No matter where your travels take you, you will have access to a virtual health concierge agent that can support any health-related concern or question anytime 24/7.
Pricing
$179.00 ea for individuals*
$169.00 ea for 3 or more*
*Plus applicable taxes and $30 shipping charge.  You acknowledge and agree that Park'N Fly is in no way involved with, nor is it responsible for, any aspect of the COVID-19 testing process ("on-site", "off-site", or "virtual") or the results of the testing. By clicking on this link, and booking a COVID-19 test, you hereby release and discharge Park'N Fly from any damages or liability associated with the COVID-19 testing and the results thereof.
ParkSafe with Park'N Fly
Park with confidence knowing that our suite of protocols and measures will provide you with peace of mind as you begin and end your next trip.